Slide
Slide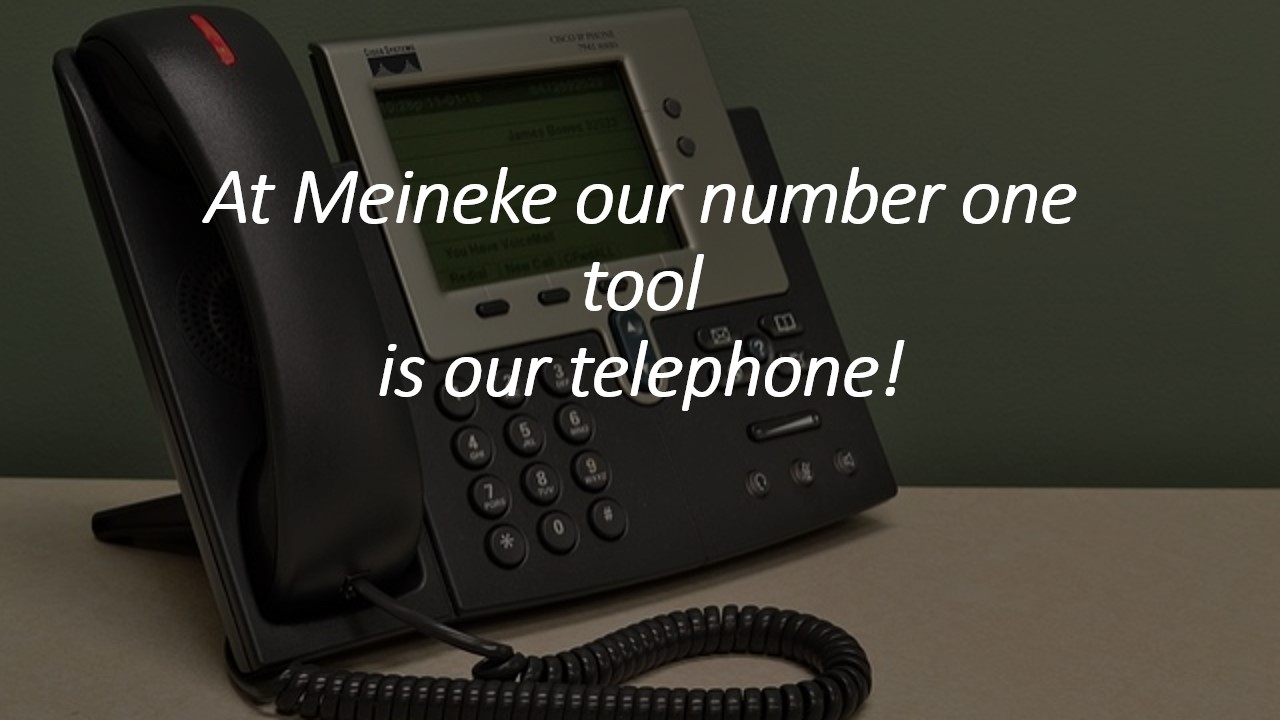 Slide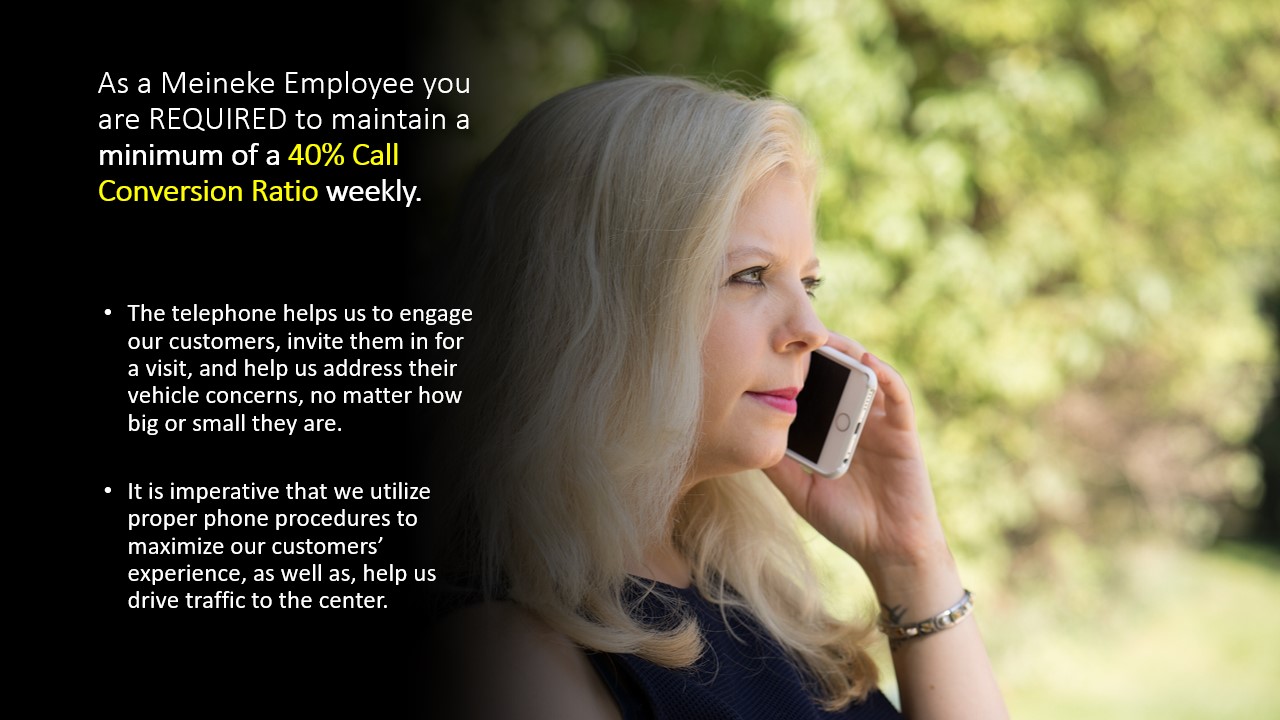 Slide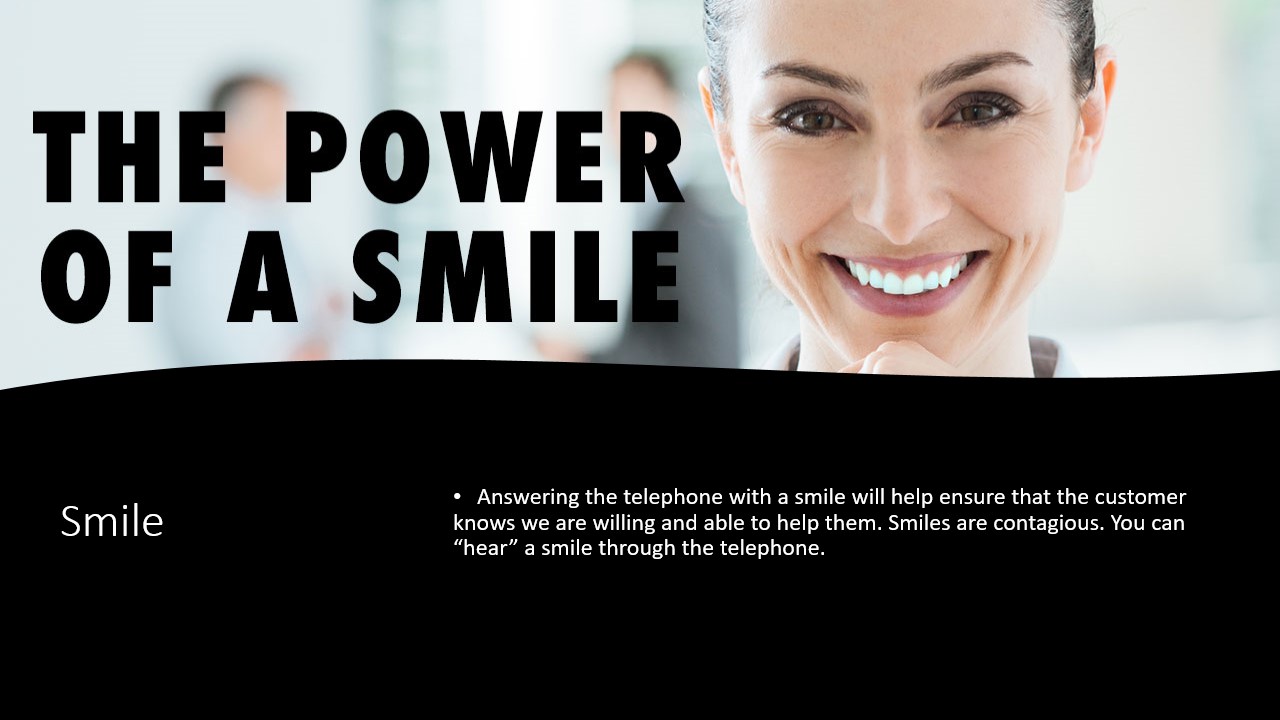 Slide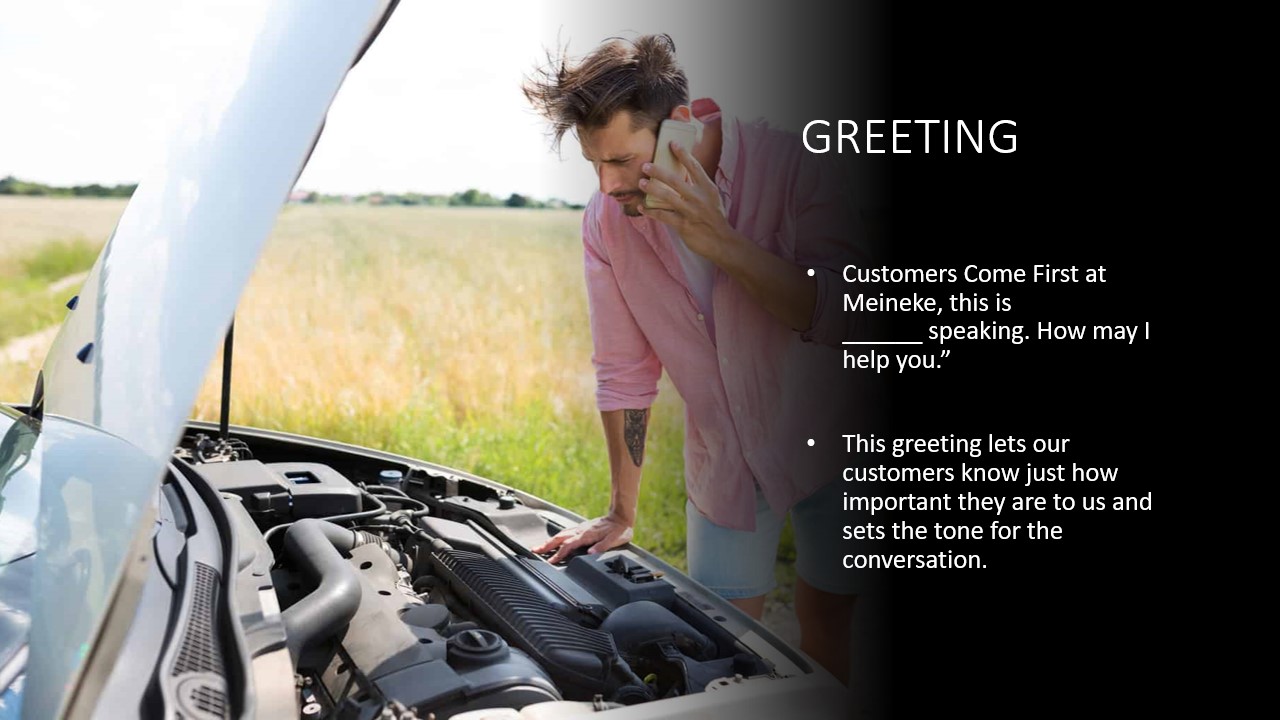 Slide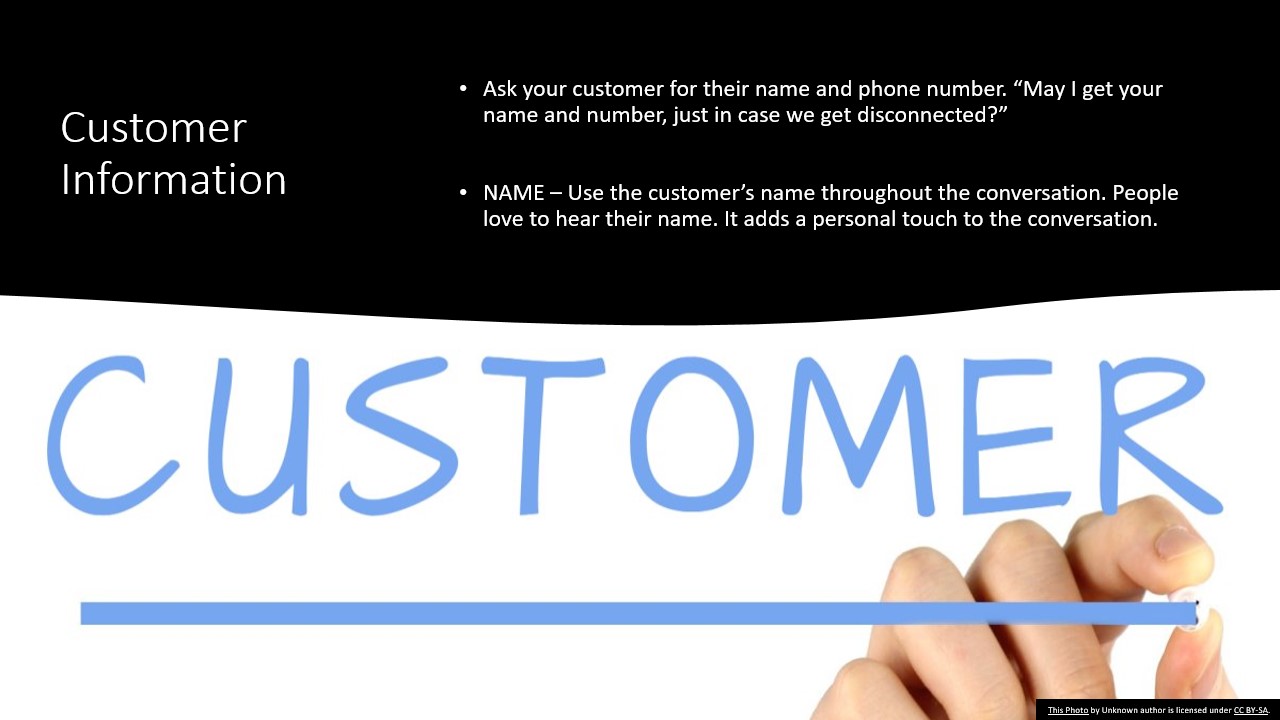 Slide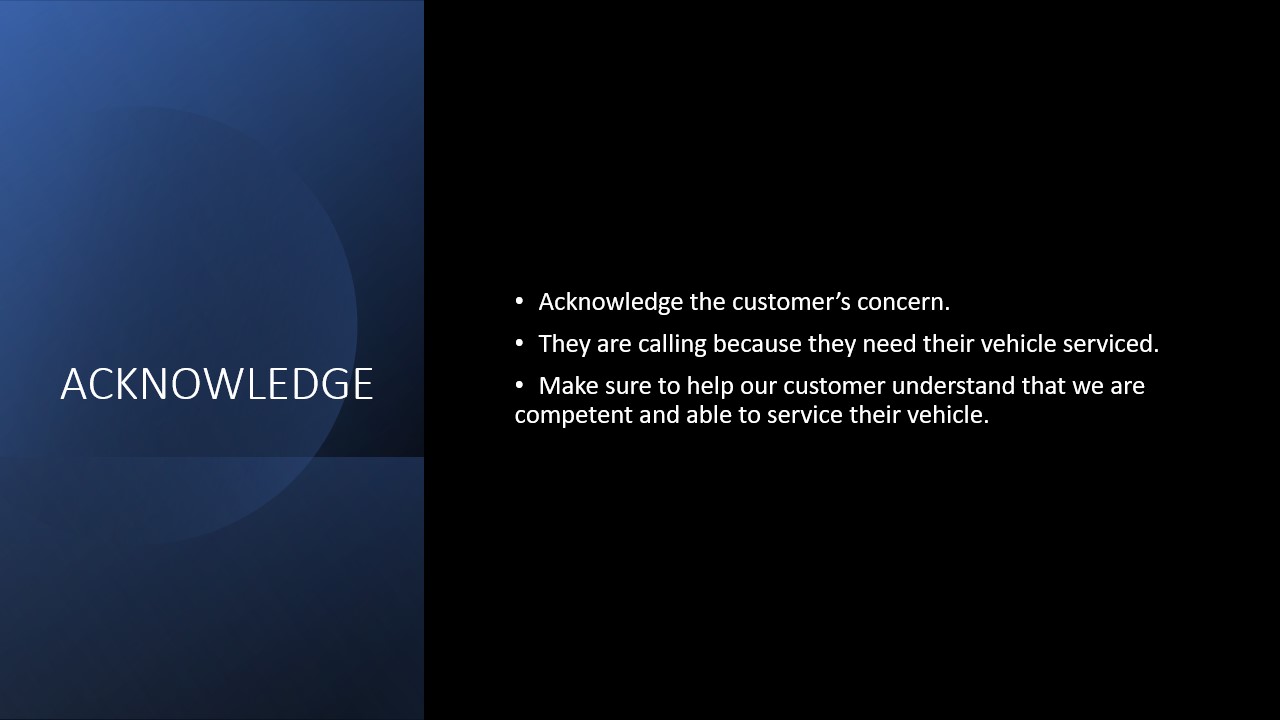 Slide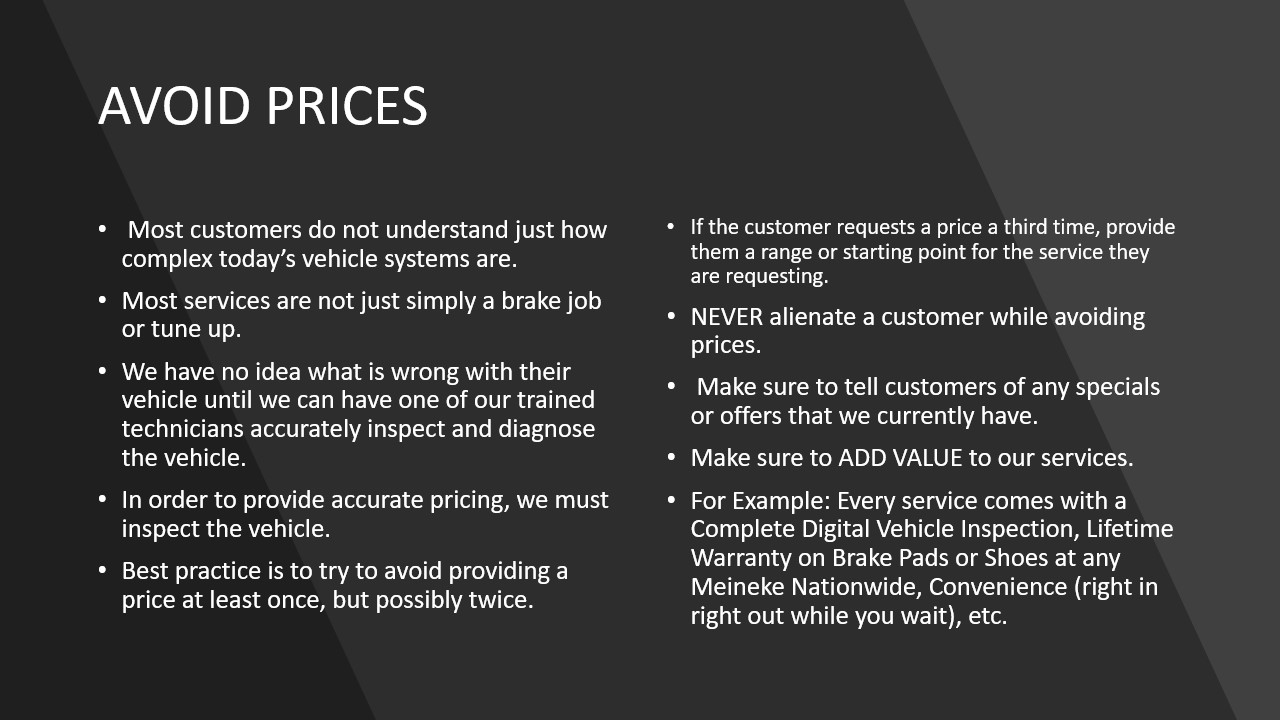 Slide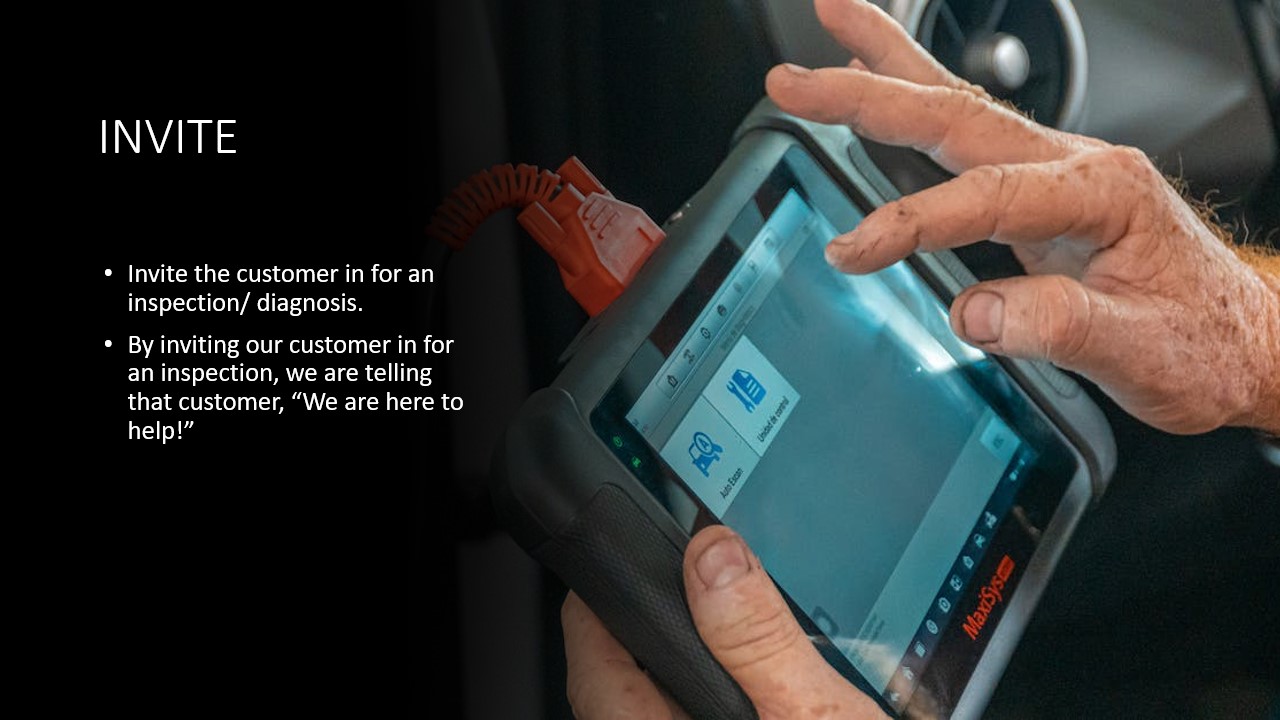 Slide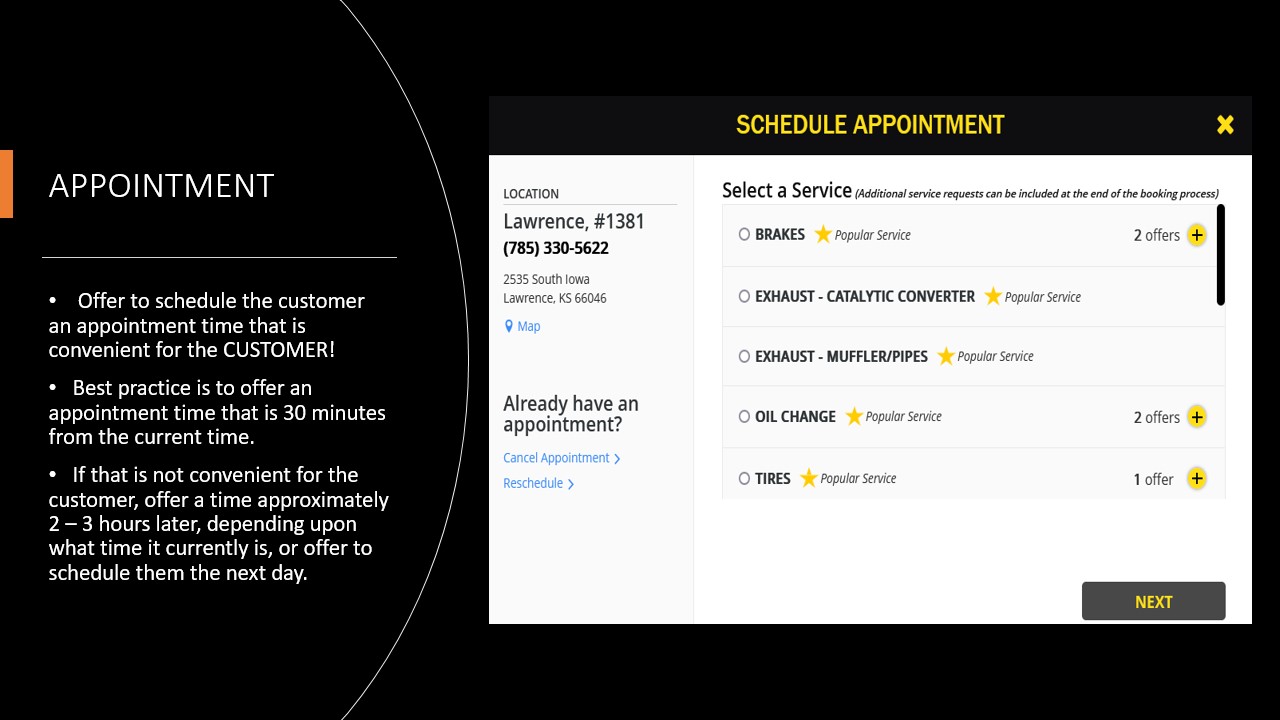 Slide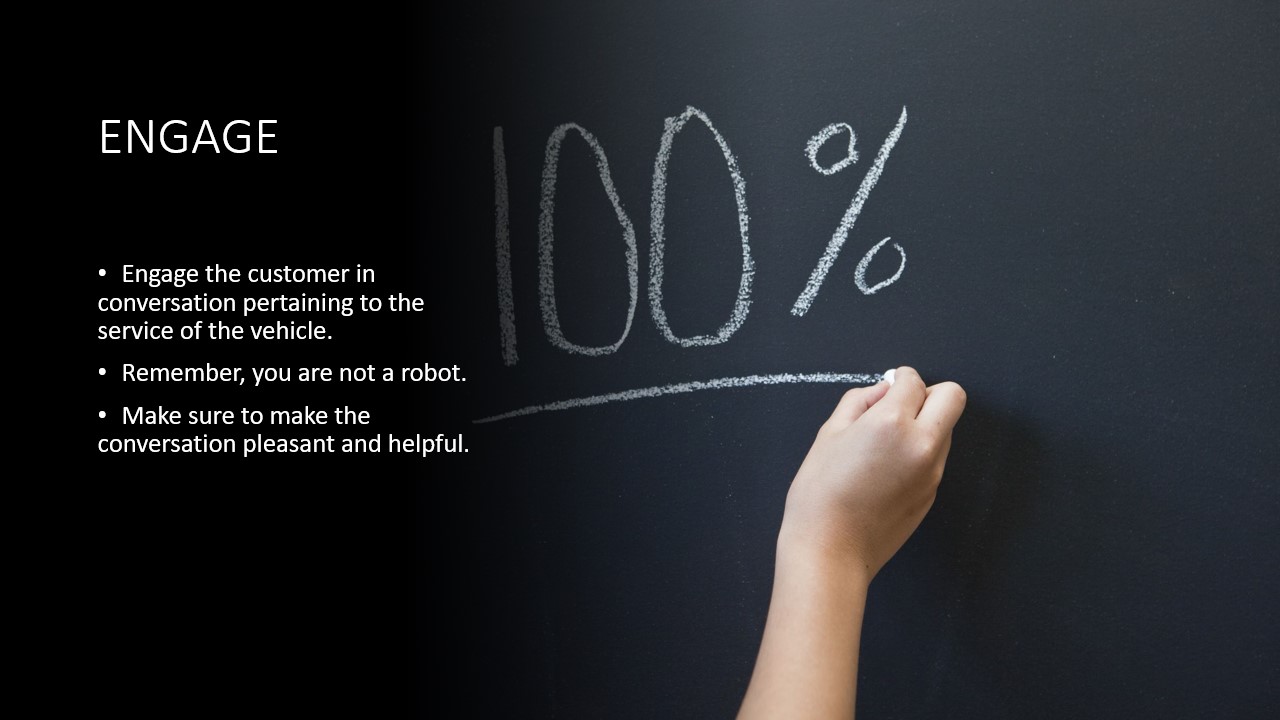 Slide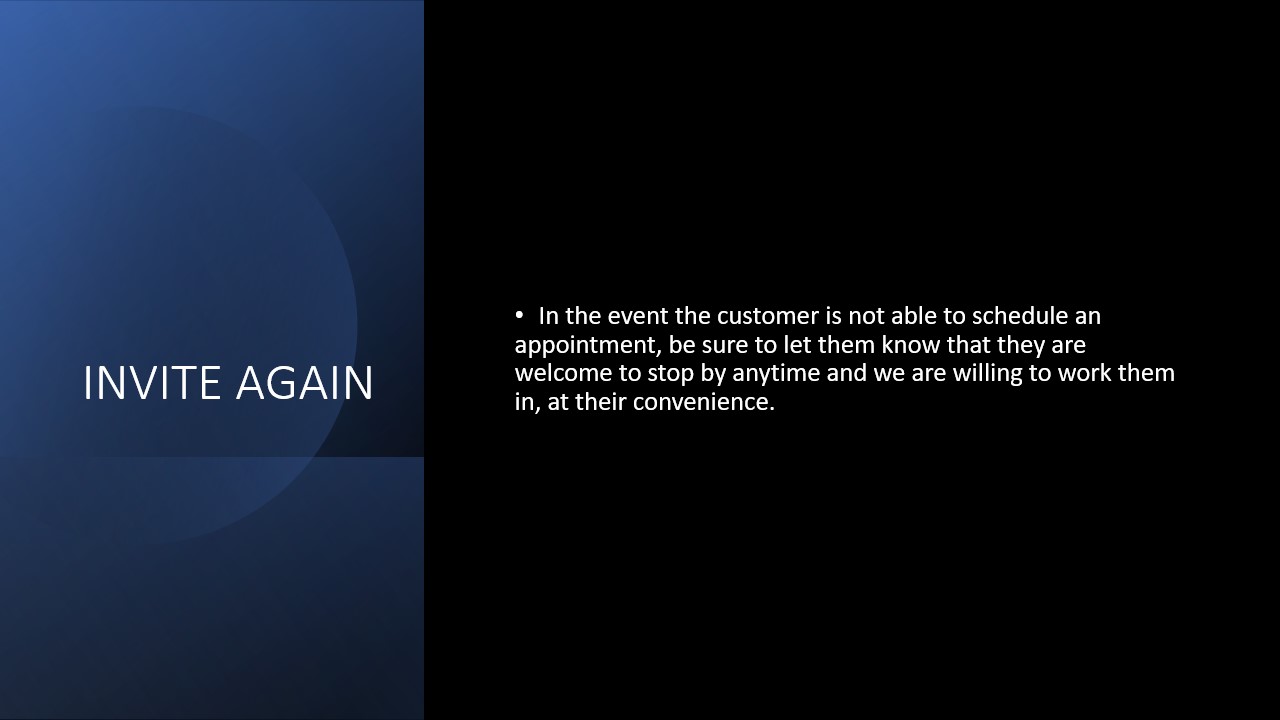 Slide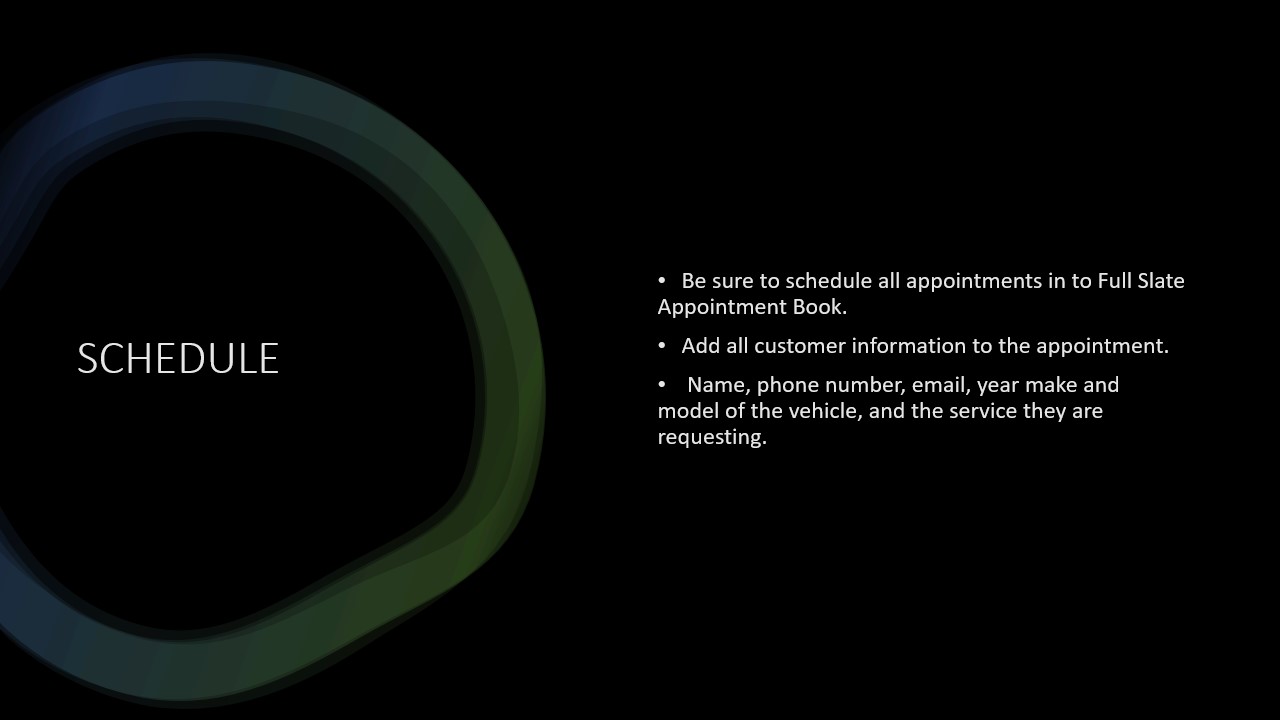 Slide
Slide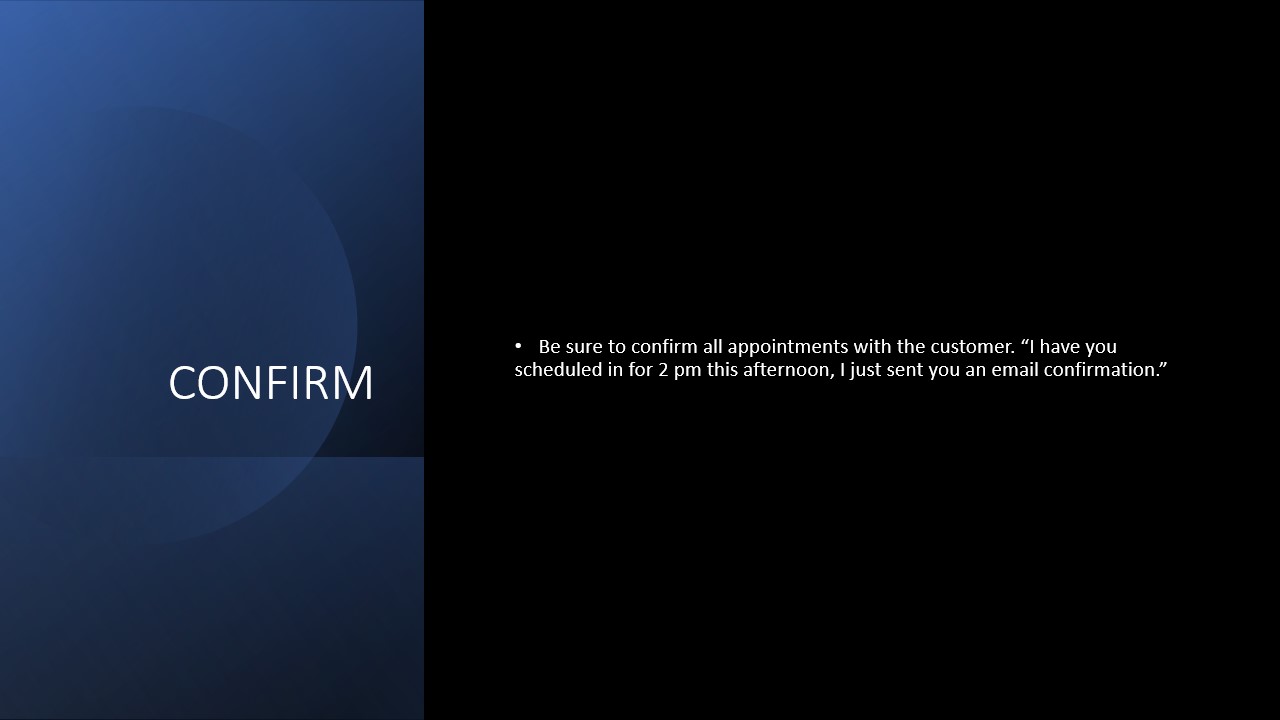 Slide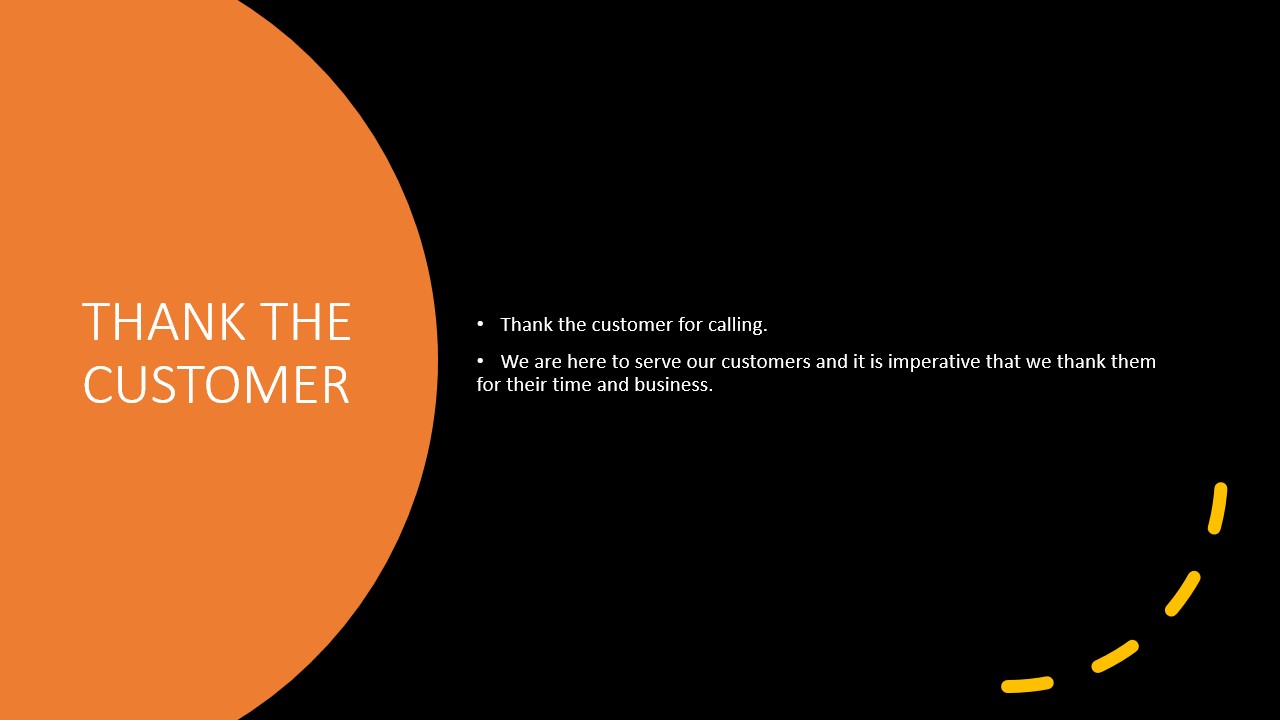 Slide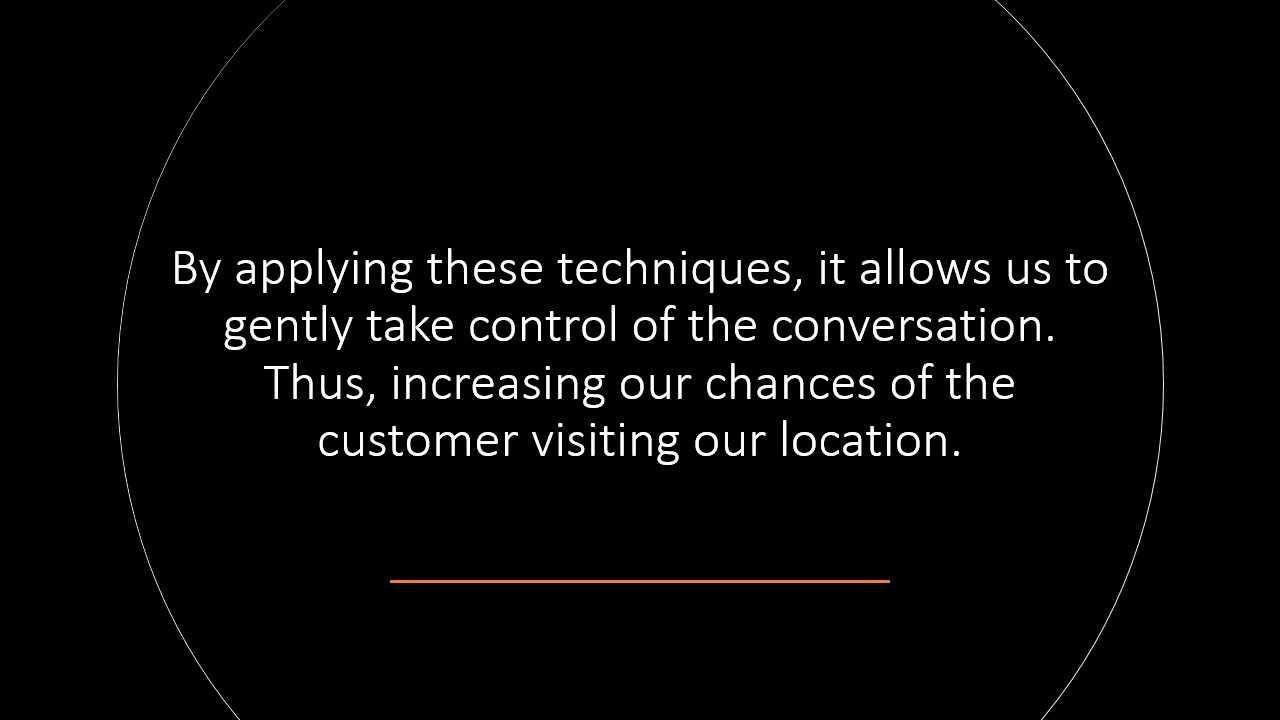 Here at Meineke our NUMBER ONE TOOL IS OUR TELEPHONE. As a Meineke Employee you are REQUIRED to maintain a minimum of a 40% Call Conversion Ratio which will be monitored on a weekly basis. The telephone helps us to engage our customers, invite them in for a visit, and help us address their vehicle concerns, no matter how big or small they are. It is imperative that we utilize proper phone procedures to maximize our customers' experience, as well as, help us drive traffic to the center. In the following guide I am going to provide some key points that we must address with all customers and provide some examples as to how conversations may go. All phone calls are different so it is up to us to determine which techniques will be most effective at helping our customers and inviting them in for exceptional service.
SMILE – Answering the telephone with a smile will help ensure that the customer knows we are willing and able to help them. Smiles are contagious. You can "hear" a smile through the telephone.
GREETING – "Customers Come First at Meineke, this is ______ speaking. How may I help you." This greeting lets our customers know just how important they are to us and sets the tone for the conversation.
CUSTOMER INFO – Ask your customer for their name and phone number. "May I get your name and number, just in case we get disconnected?"
NAME – Use the customer's name throughout the conversation. People love to hear their name. It adds a personal touch to the conversation.
ACKNOWLEDGE – Acknowledge the customer's concern. They are calling because they need their vehicle serviced. Make sure to help our customer understand that we are competent and able to service their vehicle.
AVOID PRICES – Most customers do not understand just how complex today's vehicle systems are. Most services are not just simply a brake job or tune up. We have no idea what is wrong with their vehicle until we can have one of our trained technicians accurately inspect and diagnose the vehicle. In order to provide accurate pricing, we must inspect the vehicle. Best practice is to try to avoid providing a price at least once, but possibly twice. If the customer requests a price a third time, provide them a range or starting point for the service they are requesting. NEVER alienate a customer while avoiding prices. Make sure to tell customers of any specials or offers that we currently have. Make sure to ADD VALUE to our services. For Example: Every service comes with a Complete Digital Vehicle Inspection, Lifetime Warranty on Brake Pads or Shoes at any Meineke Nationwide, Convenience (right in right out while you wait), etc.
INVITE – Invite the customer in for an inspection/ diagnosis. By inviting our customer in for an inspection, we are telling that customer, "We are here to help!"
APPOINTMENT – Offer to schedule the customer an appointment time that is
convenient for the CUSTOMER! Best practice is to offer an appointment
time that is 30 minutes from the current time. If that is not convenient
for the customer, offer a time approximately 2 – 3 hours later,
depending upon what time it currently is, or offer to schedule them the
next day.
ENGAGE – Engage the customer in conversation pertaining to
the service of the vehicle. Remember, you are not a robot. Make sure to
make the conversation pleasant and helpful.
INVITE AGAIN – In the event the customer is not able to schedule an appointment, be sure to let them know that they are welcome to stop by anytime and we are willing to work them in, at their convenience.
SCHEDULE- – Be sure to schedule all appointments in to Full Slate Appointment Book. Add all customer information to the appointment. Name, phone number, email, year make and model of the vehicle, and the service they are requesting.
LOCATION – Be sure to give your customer the exact location of your center. Use at least 2- 3 identifiers to help the customer find your center. "Next to Advance Auto Parts, in the Rosana Square Shopping Center, across the street from Quiktrip", as an example. Ask the customer if they need directions. I like to "walk my customer in" using turn by turn directions. Engage the customer by asking, "Where are you coming from?", "Are you familiar with the intersection at Santa Fe and Ridgeview, in Olathe?" There is nothing worse than having a perfect phone call and the customer ends up at our competition.
CONFIRM – Be sure to confirm all appointments with the customer. "I have you scheduled in for 2 pm this afternoon, I just sent you an email confirmation."
THANK THE CUSTOMER – Thank the customer for calling. We are here to serve our customers and it is imperative that we thank them for their time and business.
By applying these techniques, it allows us to gently take control of the conversation. Thus, increasing our chances of the customer visiting our location.